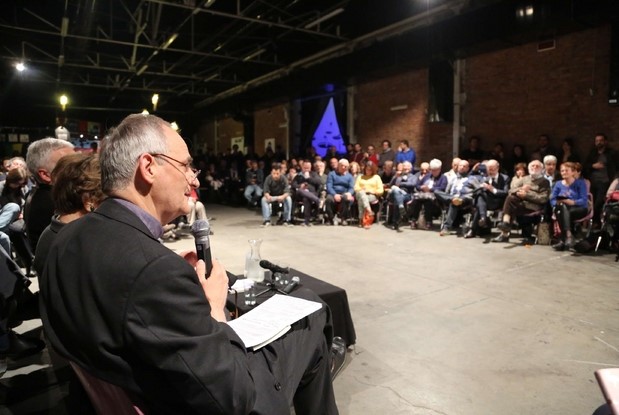 Blog, News
6 November 2018
|
|
0 Comments
|
The Archbishop of Bologna presents Pope Francis' Speeches to Popular Movements
On Monday a 16th April 2018, a historical barrier was broken in Bologna: the one separating the Catholic Church from the community centres. Archbishop Matteo Zuppi, invited by community centres Tpo and Làbas, went to the occupied centre of Tpo to talk about Pope Francis' Speeches to Popular Movements, published by Ponte delle Grazie publishing house and available with the daily communist newspaper Il Manifesto. Together with Archbishop Zuppi, Alessandro Santagata, curator of the book, and Luciana Castellina, founder of Il Manifesto, also spoke. The meeting, therefore, became a part of Pope Francis' dialogue with popular movements, which started with the Pope's ground-breaking meetings with them, twice in the Vatican and once in Bolivia.
Pope Francis' meetings with popular movements came to the attention of Tpo and Làbas, who decided to start a dialogue about them with Archbishop Zuppi. In the three speeches on the occasion of the meetings, Pope Francis describes a way to change society, which is currently dominated by money, and re-build it from the bottom, more humanely, justly and brotherly.
This dialogue became more concrete in Bologna, according to Pope Francis' wishes: "I also know, from the Pontifical Council for Justice and Peace headed by Cardinal Turkson, that many people in the Church feel very close to the popular movements. That makes me very happy! I am pleased to see the Church opening her doors to all of you, embracing you, accompanying you and establishing in each diocese, in every justice and peace commission, a genuine, ongoing and serious cooperation with popular movements. I ask everyone, bishops, priests and laity, as well as the social organizations of the urban and rural peripheries, to deepen this encounter."[1]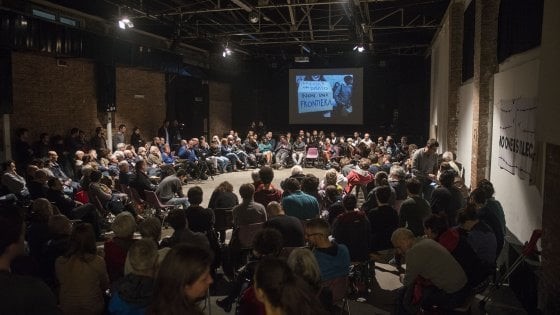 During the meeting at Tpo, the deep and perhaps insurmountable differences between the Church and the centres were not hidden, but it was also clearly stated that, on many topics, it is possible, and, at this moment in history, it is also our duty, to walk together. This was the final comment by Gianmarco De Pieri, long-term leader of Tpo and Làbas: "This was a formidable occasion for public discussion between the Archbishop and ourselves. We now need to promote the creation of networks between parishes and community centres. We share the agenda of organising resistance against injustice. Two worlds that have been in dialogue for a long time also invite other realities to speak, to plan, to fight for the dignity and the happiness of the poor, the exploited, the migrants. In the happiest times for our community centres, Catholics and popular movements walked together: let us begin to do this again. Using a metaphor from the Bible: our exploited people are in Egypt, unhappy under the rule of the Pharaoh, which today takes the shape of rampant capitalism. Together, let us forge new paths, that lead us to other places, free to live with full rights and solidarity".
A significant aspect of the meeting between the Church and Tpo-Làbas is that it happened thanks to migrants; there was a young asylum seeker who no one took responsibility for, until he was welcomed by Tpo and Làbas. His name is Yusupha, and his story is on the website of the Migrants and Refugees Section.
Yusupha, therefore, must receive the credit for breaking the barrier and building a bridge between Church and community centres. Domenico (Meco) Mucignat, long-term member of Tpo highlighted this, and so did many newspapers, that gave ample space to this event. Il Fatto Quotidiano, for instance, wrote: "The occasion was the publication of Pope Francis' book on Popular Movements. But true credit goes to Yusupha, a Gambian youth looking for support. He ended up sleeping on the benches of Bologna train station. The Church could not find a place for him. Community centres took him in. 'We were impressed, said Mucignat, by Archbishop Zuppi's attitude towards the migrants and the poor' […] This happened at the Tpo centre in Bologna. It had also happened in Rome, where the Tute Bianche, community centre dissidents, wrote to Pope Francis. They received an answer nobody else was willing to give. Archbishop Zuppi said: 'money, said the Pope, must serve us, not rule us… some people are irritated by ethics, it bothers them when the manipulators, those who control the economy, are questioned'. The slogan 'No Borders' is written behind Zuppi. Maybe we needed migrants to show us that old borders are no longer there. Not even the borders within our cities".
Therefore, Pope Francis' words to migrants and refugees are more actual than ever: "Though treated as a burden, a problem, a cost, you are really a gift. You are witnesses to how our kind and merciful God can transform the evil and injustice which you suffer into a good for all. For every one of you can be a bridge that unites distant peoples, that makes possible the encounter between diverse cultures and religions, a way to rediscover our common humanity"[2].
In this way, the path towards rediscovering, defending and promoting our common humanity goes on. It is a path that Pope Francis and the popular movements, as well as Zuppi and Tpo-Làbas invite us to walk on, facing the challenges of history in our time, aware that there are many substantial difficulties, but also aware that it is possible to walk together towards a culture of love. Therefore, Pope Francis' words to popular movements echo from Bologna: "Looking at the daily news we think that there is nothing to be done, except to take care of ourselves and the little circle of our family and friends. What can I do as a craftsman, a street vendor, a trucker, a downtrodden worker, if I don't even enjoy workers' rights? What can be done by those students, those young people, those activists, those missionaries who come to a neighbourhood with their hearts full of hopes and dreams, but without any real solution for their problems? They can do a lot. They really can. You, the lowly, the exploited, the poor and underprivileged, can do, and are doing, a lot. I would even say that the future of humanity is in great measure in your own hands, through your ability to organize and carry out creative alternatives, through your daily efforts to ensure the three "L's" – do you agree? – (labour, lodging, land) and through your proactive participation in the great processes of change on the national, regional and global levels. Don't lose heart!"[3]
Mattia Ferrari
[1] Pope Francis, Address at the Second World Meeting of Popular Movements, Bolivia 9 July 2015.
[2] Pope Francis, Video Message on the 35th Anniversary of the Centro Astalli, Rome 19 April 2016.
[3] Pope Francis, Address at the Second World Meeting of Popular Movements, Bolivia 9 July 2015.