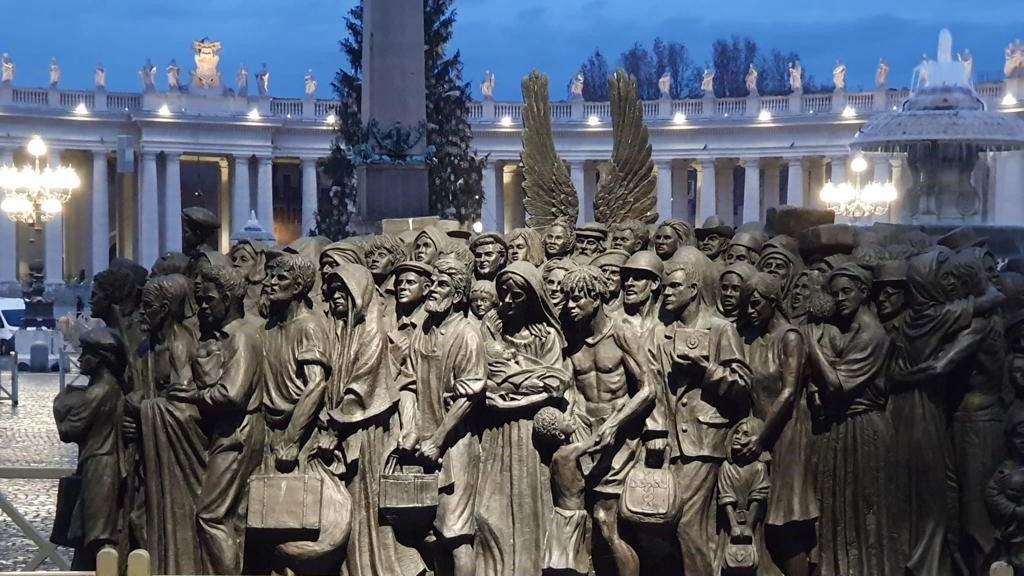 Blog, News, WDMR
14 December 2020
|
|
0 Comments
|
The Holy Family in "Angels Unawares" Illuminated in Brooklyn and Vatican City
Vatican City, 11 December 2020 – On Friday afternoon, 11 December at 5:00 p.m., the Nativity scene and Christmas tree decorating St. Peter's Square were inaugurated. At the same time, the Holy Family – amongst the migrants and refugees of all times in the Angels Unawares sculpture installed in the Square since 29 September 2019 – was illuminated.
The bronze sculpture depicts a vessel with nearly 150 migrants and refugees from historic periods, different cultural and racial backgrounds. The three figures of the Holy Family, Mary, the baby Jesus and Joseph,  are spotlighted. This highlights the deep meaning of Christmas and recalls that Jesus, along with Mary and Joseph, were forced to flee to save his life and migrated to safety in Egypt.
An identical cast of the same sculpture is "visiting" the Grand Army Plaza in Brooklyn, New York, and was unveiled on 8 December. It is illuminated in a similar way. This is a gesture of twinning which the current time of pandemic needs, when we are all waiting, all linked, all seeking hope.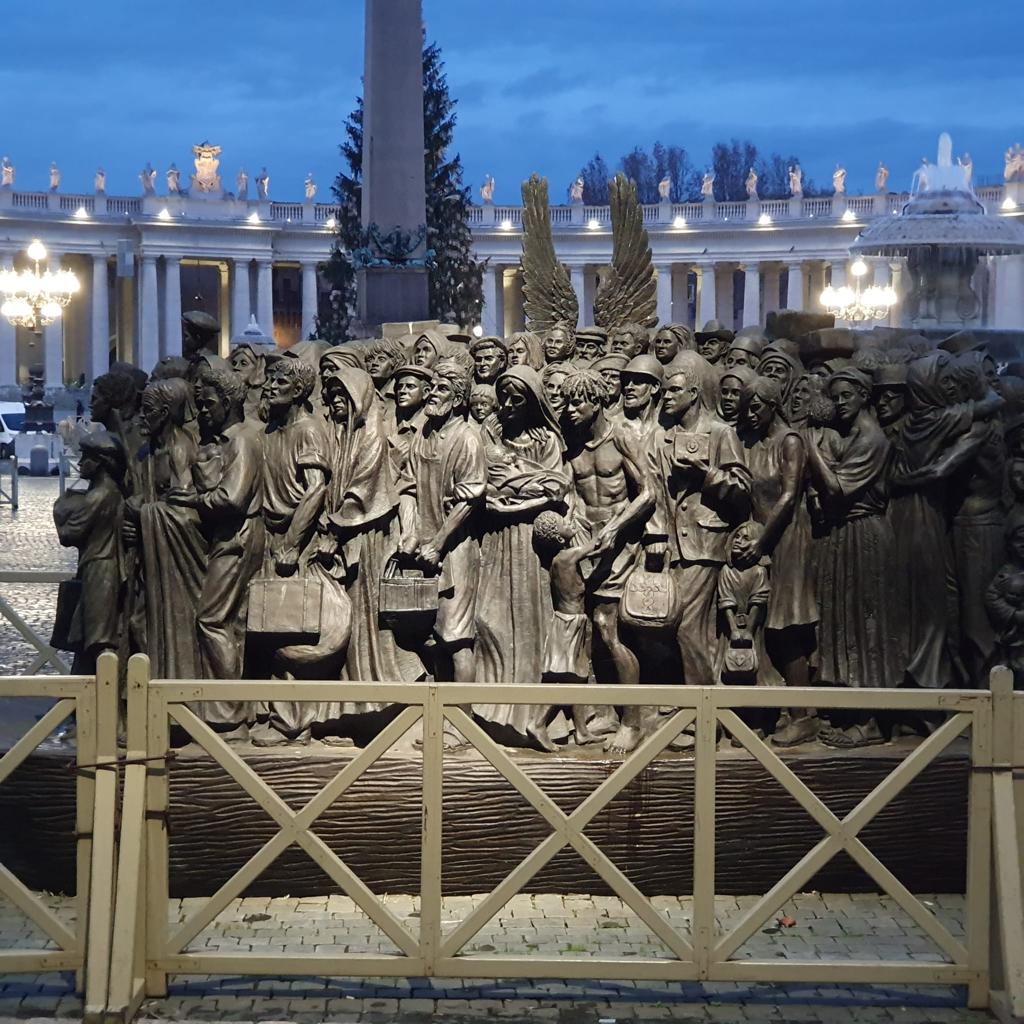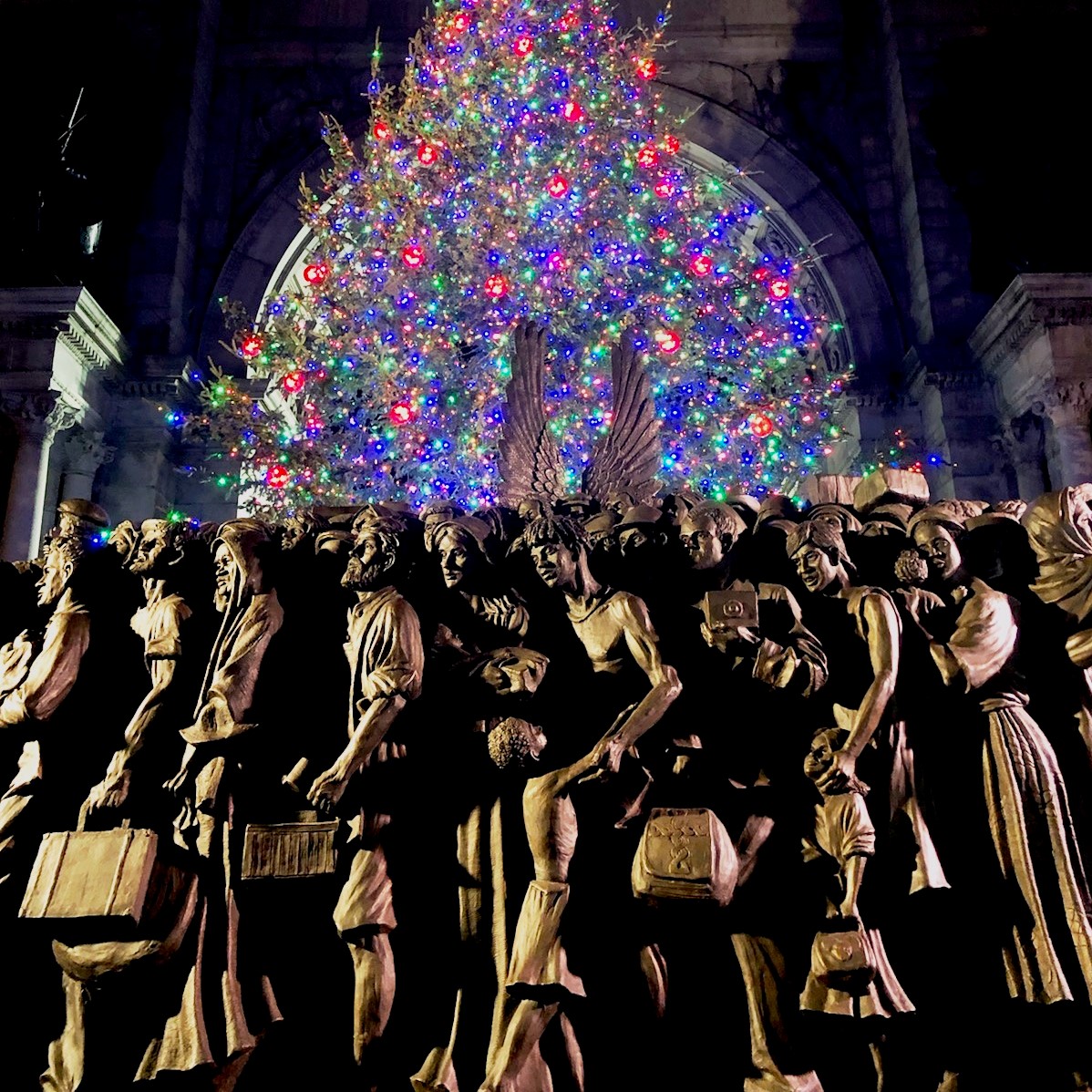 "Angels Unawares" is the work of Canadian artist and sculptor Timothy Schmalz. Pope Francis unveiled it in  St. Peter's Square on 29 September 2019, on the 105th World Day of Migrants and Refugees.
"We have realized that we are on the same boat, all of us fragile and disoriented,
but at the same time important and needed, all of us called to row together,
each of us in need of comforting the other."
Pope Francis, 27 March 2020