Speakers at a webinar on human trafficking have stressed the need for close collaboration of government, religious bodies, civil society and all well meaning Ghanaians to stem the scourge of human trafficking in the country.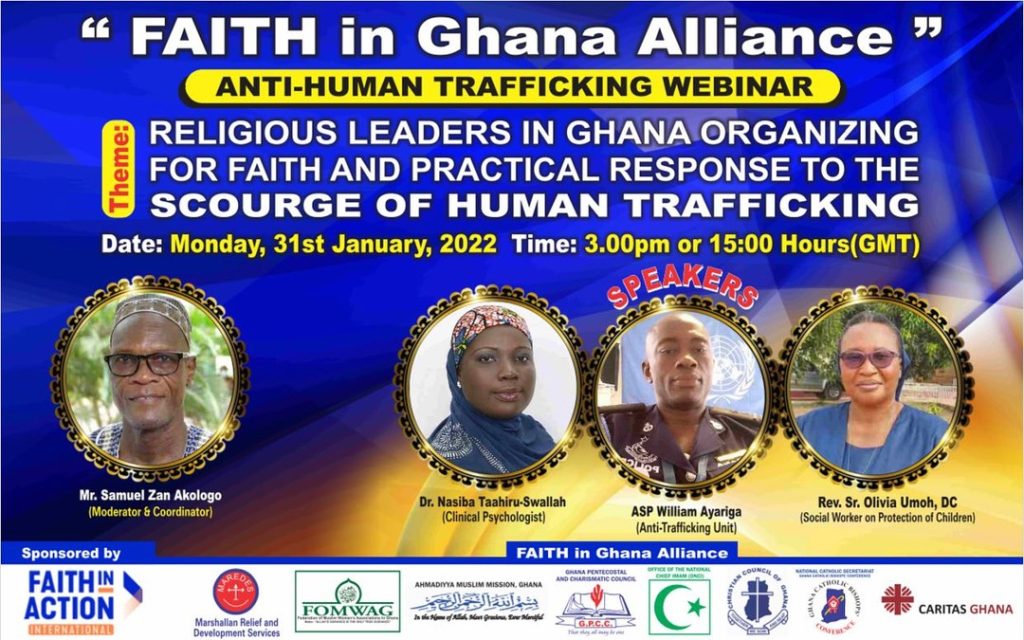 The Webinar on the theme Religious Leaders in Ghana organising for Faith and Practical Responses to the Scourge of Human Trafficking was organised by the Faith in Ghana Alliance. Dr. Nasiba Taahiru, a Clinical Psychologist who spoke on The Plight of Women and Children in Human Trafficking – The Role of Religious and Traditional Leaders, noted that human trafficking has been ingrained in the Ghanaian culture because, throughout Ghana's history, parents have always sent their children to live with extended family members in order to establish family ties and boost their children's education or skills development. She said "for a variety of reasons, including urbanization, poverty, and the breakdown of familial bonds, this system is now routinely abused; children living with relatives are frequently exploited for labour, domestic services or barred from schooling". 
Dr. Taahiru added that poverty also compels many Ghanaian youth to look for work outside their hometowns, putting them at the risk of being trafficked. She noted that trafficking for sexual exploitation and for forced labour remains the most prominently detected forms of human trafficking, explaining that the exploitation of the females was mainly due to discriminatory labour or migration laws and gender-blind policies. Dr. Taahiru charged the government to make human trafficking a high risk and low reward venture by not only rescuing victims but prosecuting culprits. Touching on the impact of trafficking on victims, she said despite the fact that both children and adults are subjected to the same harmful treatment, child victims of human trafficking are particularly vulnerable due to their age, immaturity, and lack of experience to abusive practices, saying that this may harm their physical development. She appealed to traditional leaders to use their influence as community and opinion leaders as a tool to discourage and minimize human trafficking by using their palaces as educational avenues for advocacy and sensitisation of their communities on the issue. Religious leaders, she added, should also use their pulpits and schools as platforms for sensitisation and advocacy on the menace. 
On her part, Rev. Sr. Olivia Umoh, DC, a Social Worker on the Protection of Children, spoke on Faith and Practical Response to the Scourge of Human Trafficking. She said human trafficking is a global social problem which affects every nation and stressed the need to muster efforts, get together and build a strong force to confront it. Sr. Umoh outlined an action plan to respond to the scourge including awareness creation, rescue of victims, provision of shelter for rescued victims, rehabilitation and reintegration of victims. She stressed that collaboration is indispensable in combating the scourge of human trafficking and called for all hands on deck in this regard. 
Earlier, ASP Wiliam Ayariga, of the Anti-Trafficking Unit of the Ghana Police Service, spoke on the realities and challenges of human trafficking in Ghana, how religious bodies can help in preventing the canker. He explained that Ghana is both a source and receiver of human trafficking, saying that the main challenges in dealing with this canker are access to victims, inadequate shelter for rescued victims, ineffective coordination, cost of providing care and inadequate logistics. ASP Ayariga said since religious bodies are in every corner of the country and are privy to firsthand information, they should collaborate with the security agencies by giving them information on victims and offenders. He also called on them to help in providing shelter for victims, raise awareness on the canker, be sources of friendship to victims and support the operations of the security agencies with funding. 
The Webinar was coordinated by Mr. Samuel Zan Akologo, out-going CEO of Caritas Ghana, and chaired by Hajia Ayishetu Abdul Kadiri, Chairperson of the Faith in Ghana Platform. There were inputs by the Migrants and Refugees Section of the Vatican's Dicastery for Promoting Integral Human Development, International Justice Mission and Faith in Action International. 
Faith in Ghana Alliance is a coalition of faith-based organisations in the country including Marshallan Relief and Development Services (MAREDES); Federation of Muslim Women's Associations in Ghana (FOMWAG); Ahmadiyya Muslim Mission, Ghana; Ghana Pentecostal and Charismatic Churches (GPCC); Office of the National Chief Imam; Christian Council of Ghana (CCG); National Catholic Secretariat and Caritas Ghana, the development wing of the Ghana Catholic Bishops' Conference. 
Angela Ofosu Boateng
The Catholic Standard