As we continue to witness the theme It's not just about migrants, chosen by Pope Francis for the World Day of Migrants and Refugees 2019 (WDMR), we would like to walk together towards Holy Christmas, dedicating the season of Advent to "the least of our brothers and sisters".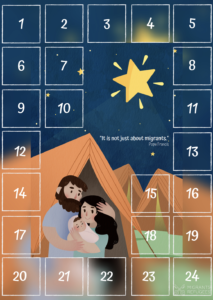 We are presenting you the gift of an Advent Calendar that you can use at home, in the parish hall, oratory, community or wherever you think fit. It's a calendar dedicated to WDMR that we celebrated with the Holy Father in St. Peter's Square this past 29 September.
Every day you can open a box that contains a thought from Pope Francis, a reflection, a prayer intention and much more. It will be a good opportunity to continue to pray together with and for all those who cry out to the Lord, asking to be freed from the evils that plague them.
It's a journey that reminds us that Jesus, together with Mary and Joseph, experienced marginalization, persecution and exile from an early age.
Along with the calendar, which can be downloaded and printed, you will find easy instructions on how to use it and post an individual images on social media day by day. Remember to tag us!
After hanging up your It's not just about migrants Advent Calendar, take a picture and send it to media@migrants-refugees.va, and we'll publish it along with all the others that we receive.