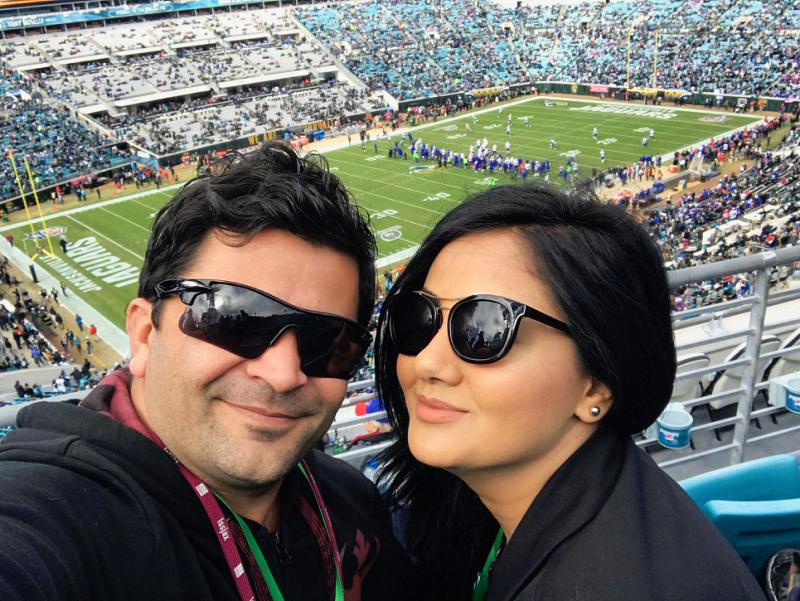 Blog
23 January 2018
|
|
0 Comments
|
A thousand free tickets for refugees. Football, integration and a new life
For years he worked with the U.S. Army. For years his life was in danger. 
"I'd look out the window of our vehicle and every civilian vehicle that passed by, I'd think, 'OK this is it, this is the one that will blow up,'" he said. "And every one that passed by, it was like I was reborn."
Shamsaldin has been reborn since, in other ways. He applied for and received a special immigrant visa (SIV) and came to the U.S. in 2013. He met another refugee, an Afghan woman named Rana, and they married. And on Sunday, they went to their first football game, courtesy of Jacksonville Jaguars team owner Shad Khan.
The billionaire was once a newcomer to this country as well, arriving at age 16 from Pakistan and washing dishes for $1.20 an hour. Last week he offered 1,000 tickets to local refugees from around the world as well as to evacuees from last year's hurricanes. Khan paid for transportation, food and souvenirs. On Sunday morning at 10, Shamsaldin and his wife Rana boarded a school bus with no idea what to expect. "I really appreciate what Shad Khan did," he said, "not just for us but for everyone. It's my first time ever in a football stadium."
The Jags worked with Lutheran Social Services of Northeast Florida, which resettles several hundred refugees every year. Mary Strickland oversees the program, which includes finding the refugees jobs, housing and a community of new friends. She hired Shamsaldin to help her run operations. "The refugee influx usually follows the wars," she said. "There used to be a bunch of Bosnian people. Lately there have been Burmese people. Last year, a lot of Syrians, but now they're banned."
Strickland says the number of people coming has dropped measurably under the Trump administration.  The misconceptions are vast. Refugees almost invariably turn into positive contributors to the community. "Refugees are easy to place," Strickland said. "They will happily work for $10.50 an hour at an Amazon fulfillment center, or as an Uber driver." And they are not pilfering goods and services. After a short time in this country, Strickland said, they get a bill from the U.S. government. They have to pay back the federal money used to help resettle them. "This is not the same as refugees in Europe," Strickland said. "They're not crossing the border. They're not here illegally. They are carefully vetted or managed. This is very different from what you hear about" in Europe.
The reactions of the refugees upon arriving in the U.S. are always memorable. Most have never seen an infant car seat, and struggle to place their babies into one. Some open their new fridge, which Strickland and her colleagues have stocked with food, and remark they haven't seen eggs in years. Some have never experienced running water. One admitted she had never slept in a bed before. So you can imagine the wonder Shamsaldin felt as he entered EverBank Field and saw 70,000 people from his perch in Section 442. He was part of the local community in a whole new way. "Insane," he said.
There is still plenty of sadness in his life. Most of his family are still in the Kurdish region, trying to come to the U.S. but so far "in limbo." They applied several years ago. "We don't know if they'll ever show up." His future is bright but theirs may not be. For an unforgettable day, however, the daily fears of his former life were far away while he was taking in one of the truest American traditions. Shamsaldin hopes to gain citizenship sometime in 2018, but in his heart he's still a newcomer.
"I'll always be an immigrant refugee," he says. "That's what got us here. That's what makes our country so special."
Eric Adelson